Come Together
Posted by Martin England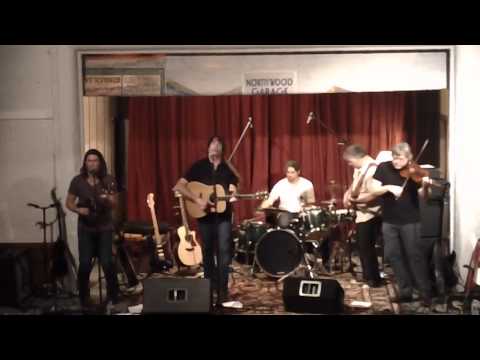 Martin England & the Reconstructed Live at Bow Lake Grange (6/23/12)
There are moments in the life of a band where you can feel its pulse strengthening, and all crossed signals suddenly flow in parallel. Last Saturday night's show at the Bow Lake Grange was testimony to this theory. An amazing live show opening for an established local music (Tom Schena) in a venue cut from local fabric and steeped in tradition as one of the best listening rooms in New England (Ed Gerhard plays here once a year). 
As a matter of record, Martin England and the Reconstructed have been a mix-match affair until recently. We've relied heavily on the availability of some very busy musicians. Our piece numbers have varied from three to seven. While this practice has worked effectively, it's hard to gain any sort of momentum when operating in this realm. New songs are mostly left to dry on the vine, while the priority is on getting through the set lists, dispatched via email.
Over the last month, membership to the Reconstructed has increased by two. Drummer Sean Daniels (Thanks to Gravity, Don Campbell) and bassist Andrew Russell (The Molenes) have joined the ranks along with Courtney Brocks (backing vocals, banjo, hand percussion), Jesse Dold (ukulele, electric guitar), and Andy Happel (fiddle, violin) and have, in the process (and even perhaps unconsciously), mortared this outfit from a loose fitting puzzle into a solid, gorgeous mosaic. Everything suddenly feels effortless, and gone are the stage moments where I'm worried about band members hitting the right note, or remembering the next turn.
How long this arrangement lasts is anyone's guess, but I think part of the moment's beauty rests in the nonchalant nature of the beast. We're not talking about what the future holds for Martin England and the Reconstructed, but instead, just collectively living, loving, staying in the moment. There a serious lack of anxiety that's both refreshing and inspiring, and yet, there is a collective attitude to take every song and make it special, to let it stand on its own apart from the others. I'm truly digging this moment.
In the spirit of hypocrisy, naturally the next question is, What's next? Well, I'd be disingenuous if I didn't reveal that although none of this stuff has been talked about openly, and we do sort of have a plan. It's not world domination. It's just simply to go into the studio and record and release one song at a time digitally in hopes to capture each idea as they happen. And yes, we do have a few gigs scheduled throughout the summer, fall and perhaps next winter. But membership is optional, music essential.
Thanks again to Nani and Mike Morrison for pulling the Bow Lake show together, and for inviting us to participate, and also to Tom Schena and his band for sharing the stage. If you have not checked out this super talent, it's high time you did before it costs $30 a ticket.
Share on Facebook